#Leeleestrong
Pony Club Approved!
All Weather Protection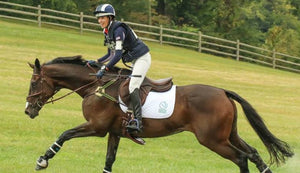 #Leeleestrong
With Every Sale of our original Tack Butter in Lavender Eucalyptus and Peppermint, We Donate to the Recovery of Equestrian Lee Lee Jones
We can all make a difference! With every purchase of our original Tack Butter, we are helping with the recovery of Lee Lee Jones. Lee Lee was in a riding accident at her home in December of 2016. Tack Butter not only makes tack cleaning fun and healthy, it also stands for so much more! Lee Lee is our most important sponsored rider. 
Follow us on Facebook and Instagram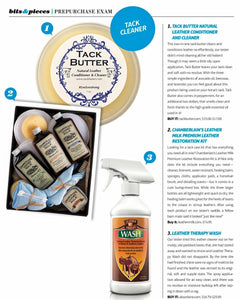 Tack Butter Voted #1
Tack Butter was voted #1 in the Prepurchase Exam in Practical Horsemen Magazine! Thank you Practical Horsemen! (Before our Natural Leather Wash was developed!)
Tack Butter Global Champions

Tack Butter protects, cleans and conditions

Sharing love and knowledge
Tack Butter Global Champions
#TACKBUTTER
Tack Butter Performs
Tack Butter protects, cleans and conditions
Sharing love and knowledge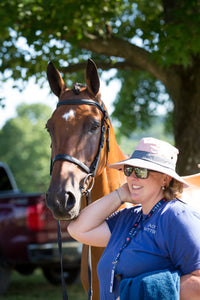 Tested By The Best
Olympic Groom and Co-Author of World Class Grooming, Emma Ford helped develop Tack Butter
RETAILERS & WHERE TO BUY
Tack Butter has a 2 year shelf life to be in perfect condition. If you are unsure of the age of your Tack Butter, the batch number is the month and year it was made. After 2 years, you can still use it. It might seem to be a little "grainy". You can always stick it in the microwave for a minute or two to re-melt it. Don't burn yourself! This brings it back to new.
Aiken Dry Goods 124 Laurens Street NW Aiken, SC
Aiken Tack Exchange at 812 Richland Ave, E Aiken, SC
All About Equestrian Fisher Ave. Poolesville, MD
Another Turn Tack 701 West Main St. D Purcelville, VA 20132
Boots Class N Sass 2034 Morse Road Middlebury, VT
Briggs Tack Shop 623 Hanover St Hanover, MA 
Broyan's Farm Market at Rt. 93 Nescopeck, PA
Buck's County Saddlery Buckingham PA
Cheshire Horse of Saratoga at 402 Geyser Road Saratoga Springs, NY
Chi Ro Ranch 600 Bridle Ln, Monett, MO 65708
Country Lane Tack at 1655 SW Hwy 484 unit 102 Ocala, FL
Coyote Moon 54 Main Street Belfast, Maine, 04915
Curated EQ 3829 Waggoners Grove Church Road Colbert, GA 
Cross Road Tack Shop 38 West Main St. Lebannon, PA 17042
Dark Horse Tack 10125 Southern Blvd. Royal Palm Beach, FL 33411
The Equestrian Centre 136 Simsbury Road Building 12, CT 06001
Essex Co. Co-Op 146 S. Main St. Topsfield, MA 01983
Equine Earth 4339 Durham Road Kintnersville PA 18930
Equine Tack & Nutritionals 4911 Lyons Technology Parkway Coconut Creek FL 33073
Equestrian Shop 40 Essex Road Ipswich, MA
Equestrian International 116 King Ct. New Holland, PA
Fair Hill Saddlery 5930 Telegraph Road Elkton, MD
Farm House Tack Shop 22341 Asheville Hwy, Landrum, SC 29356
Good Apple Equine 255 SW 60th Avenue Ocala, FL 34474
Greenhawk Equestrian Stores in Canada (List of stores under the Canadian Customers tab) also at Greenhawk.com
Green Valley Tack 792 County Road 1 Pine Island, NY
he Hitching Post Tack Shop 11403 Main Street Middletown, KY 40243
Horsemen's Outlet 37 Molasses Hill Road Lebanon, NJ 08833
I Love My Horse Mobile Shop
Island Tack Shack 3157 Maybank Hwy D, Johns Island, SC 29455
J.B. Creighton at 8200 Meadowbrook Lane Chevy Chase, MD
JK Ranch Supply 14316 Bell Valley Road Caldwell, Ohio 43724
Little Bit Of Silver 205 Foxhall Drive Rocky Mount, NC 27804
Log Cabin Tack at 270 Londonderry Turnpike Hookset, NH 
Mags Mobile Tack Newnan, GA 30263
Natural Horseman Saddles Naturalhorsemansaddles.com Ennis, MT 59729
Posh Pony Boutique Ottsville PA
Potomac Tack
Renco Ace Hardware 2251 Columbia Boulevard Bloomsburg, PA 17815
Rick's Heritage Saddlery 1340 Pottstown Pike, West Chester, PA 19380
Saddlery Liquidators Haymarket VA
Savannah Saddlery 233 Longleaf Circle Pooler, GA 31322
Smartpak Store at 30 Worcester St. Natick, MA and online at Smartpak.com
Strafford Saddlery at 5967 Woodstock Road, VT
The Tack Room Inc. 6506 Old Turnpike Road Mifflinburg, PA
The Tack Room 2530 Broad Street, Camden SC
The Tack Shack of Ocala 481 SW 60th Ave. Ocala FL
The Tack Shop of Lexington 1510 Newtown Pike, ste 124 Lexington, KY
The Tackeria at 13501 S. Shore Blvd. Wellington, FL and online at Tackeria.com
Waxhaw Tack Exchange 103 South Church Street Waxhaw, NC 28173
Weathervane Tack Shop 531 Main Road Tiverton, RI 02878
Wild Bird Center 568 Govornor Ritchie HWY STE G Severna Park, MD 21146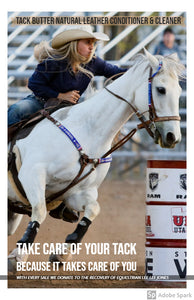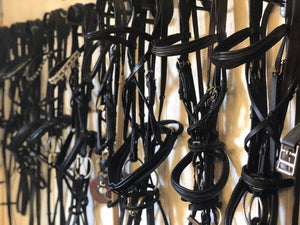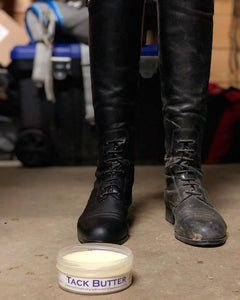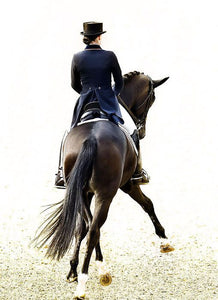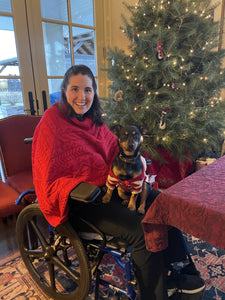 Update on Lee Lee's Amazing Progress
Here is Lee Lee by the Christmas tree with her dog Bear. He just loves her! It has been six years since her accident but Lee Lee continues to improve. She is talking more which is fun for us and less frustrating for her!
We are so grateful for people like you who continue to keep Lee Lee in their thoughts, hearts and prayers.  We have a mantra that we started when she was in the hospital "I haven't come this far to only come this far".  So, we keep pushing forward!